TOP Features
The white body shell is designed in accordance with European safety standards. The energy absorption zone structure increases the anti-collision capability, thus guaranteeing passive safety.
1.5mm is the overall thickness of the cab's metal sheets. However, the cab's collision zones have been reinforced with 3 mm metal sheets. This reinforcement has improved the cab's anti-collision capability.
The cab body is welded by automatic welding robots. This guarantees welding precision and quality.
Four-point cab air suspension system can effectively reduce poor road condition's impact on the driver and passengers during driving.
All of the chassis components have undergone CAE finite element analysis to ensure strength of the chassis. The strong chassis ensures the security under high loading and fast speed working conditions.
JAC offers the toughest vehicle frame in China, strong loading capability, never yielding to cargo weight.
The Steyr-technology Weichai engines, power output ranges from 260hp-430hp, good fuel economy and low operating cost; EVB exhaust-valve-braking system with MAN proprietary technology; high braking efficiency and lower fuel consumption contribute to lower operating cost.
Rear axle suspension adopts optimized design based on mature and reliable Steyr rear axle suspension structure, with reinforced front and rear leaf spring. Which ensures the high loading capacity of the vehicle.
ZF gearbox, with synchronizer, smooth and easy shifting is highly reliable.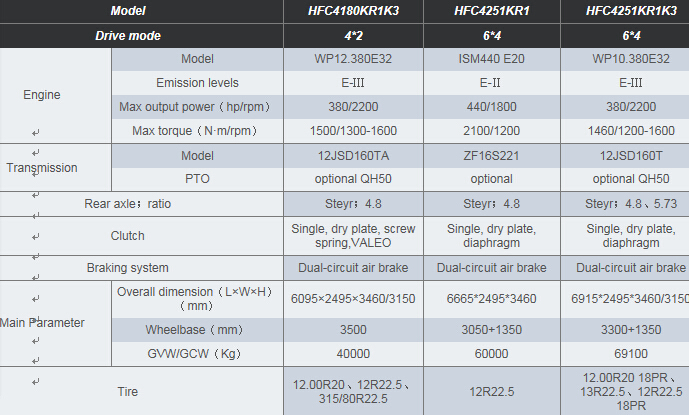 Tractor unit: one kind of commercial vehicles, equipped with a special device used for pulling semi-trailer.
Prevent slippery:prevent the vehicle's wheels idling when driving on the snowy slippery road, that make vehicle start smoothly.
Acceleration: the traction control system can guarantee the smooth acceleration particularly in the snowy or muddy road.
Flexibility: make vehicle has better maneuverability in traction motor.
Driving tips:
Do not lift the handle to "fall" suddenly in the middle of the full load lifting.
Note the blind area at the road bends for pedestrians, check the tires before starting.
Slow down the speed when reversing, because the direction is reverse.
Be careful and do not to move the steering wheel, because the body is longer. Big move is easy to hurt pedestrians.
Obey the laws and regulations such as traffic, fire control, security when driving on the road.
JAC was awarded National Quality Award, the highest quality award in China. It is also the first and the only independent brand automobile manufacturer in China to win the award. JAC tractor units were awarded the certification of Chinese Exemption from Export Inspection. It is also the first automobile enterprise to receive the certification in the light-duty truck industry in China.