Trailer landing gear
Trailer landing gear can be classified into inside landing gear and outside landing gear.
Landing gear is also known as the stabilizers, located in the front-rear frame of the semi-trailer, it is needed when the semi-trailer is breaking away from the tractor.
Landing Gear is one of the important equipments of semi-trailer. It is adopted when lift and load semi-trailers and used as lifter when maintain vehicles.
Adopting spiral lifting mechanism, the outside landing gear has double gears of high and low speed and uses sliding shift mechanism. And there locates mechanism of steel ball of high and low speed. High gear is used for idling lifting, more time-saving and faster. Low gear is used for load lifting, flexible, convenient and energy saving. The support device is applied to bearing and lifting semi trailers when setting out. It is in conformity with ZBT73001-87 standard.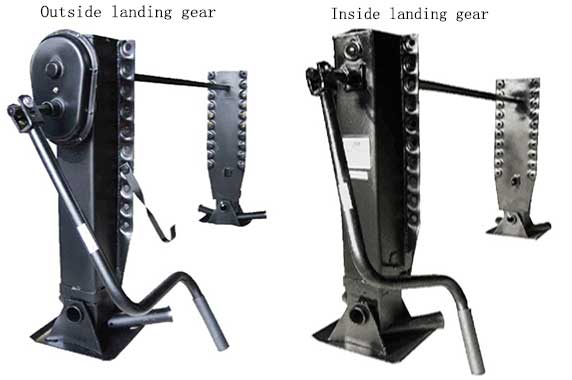 | | |
| --- | --- |
| Specification of inside trailer landing gear | Specification of outside trailer landing gear |
| | |
Product features:
1. Using low temperature chassis lube, the gear box works well from -30°C to 120°C;
2. Works flexibly with grease lubricant on the jack screw;
3. Double speed designed for better efficiency;
4. Wider backing mounting plate for greater load bearing capacity and longer service life;
5. Multi-type shoes available for different usage;
6. Reliable, high quality seal keeps water out and extends the useful life;
Product functions:
1. The device is used for semi-trailer and special trailers.
2. It can lift and support the trailer when separated from the tractor.
3. Used for all sorts of trucks securely working as hydraulic jacks.
4. The quality is up to the standard of American ABS specification.
5. Please adjust to slow speed when loading, high speed is forbidden, otherwise it may injure the landing gear.
Attention(outside landing gear):
1. Only use low speed gear when the base ground raise the vehicle, high speed gear are not allowed to be used.
2. Confirm the gear meshing completely when the handle is hung on the hook. Avoid the condition that the gear is in the neutral position when the handle hung within the hook.