Trailer axle series
Axle is one of the three core powers of semi-trailer, it has the function of braking, bearing the weight and driving the vehicle, etc.
Deli trailer axle series mainly have 13T trailer axle series and 16T trailer axle series.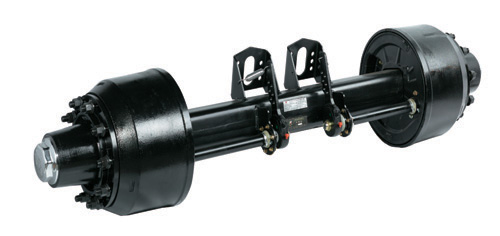 13T trailer axle series:
1. The brake shoe adopts half metal graphite composite material, owning the features of high static friction coefficient and good heat conducting property. Abrasion resistance of the brake pads is 25% higher than asbestos brake.
2. This series is forged by North American camshaft, optimized through heat treatment after precision machining. Slack adjuster of the brake is designed as 3 holes manual type (Available for automatic type). All brake parts can be interchangeable with North America switch brake.
3. Precision machining of imported CNC machining center ensures the assembly of axle and the accuracy of operation.
16T trailer axle series:
1. The square shaft tube is made of high quality alloy and the axle shaft neck is machined through the whole process of modeling induction heat treatment. The axle is perfectly welded by special-purpose welding robots, making the axle bear heavier load safely.
2. Using the world's top Mobil special lubricating grease, and the main components of the axle can interchange with other 150mm (6#) square axle.
3. Nodular cast iron and grey cast iron brake drum is designed in conformity with international standard, owning the features of large load-bearing and not easy to deformation.
Attention:
1. Different models and specifications of our axle can be offered according to the requirements of the customers.
2. Be designed according to the international standard, it can be installed with ABS anti-lock braking system, provide duplicate protection and apply to each axle.