Gooseneck – a Kind of Stable Truck Trailers with Easier Maneuverability
Jul 17, 2015
Gooseneck truck trailer is a type of semi trailers which the shape is like a goose. Gooseneck trailer has a wide range of freights, it can be used to the transportation of mechanical equipments, large objects, highway construction equipments, power station equipments, large tanks, power station equipments and all kinds of steel. Its frame is ladder type and the section of carling I-shaped type. The frame have the characteristics of high rigidity, high strength. Low frame loading deck is appropriate for transporting all types of large construction machinery equipments and steel. Using three axis balanced living rigid suspension, the frame is equipped with Mass balancing block between the front and rear steel plate spring, which can make the equal deflection change of the front and rear steel plate spring. The vehicle is designed by adopting advanced computer aided design software, using various and flexible styles, it is widely used and is very convenient and efficient. Frame bearing surface is designed in accordance with the user's requirement, meeting transportation of all sorts of special cargo transportation.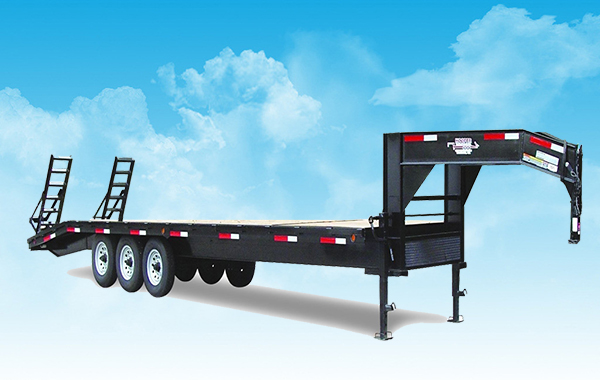 Classifications of gooseneck truck trailers:
1.Gooseneck flatbed trailer
Gooseneck flatbed trailer is a sort of semi trailers that the shape is similar to the neck of goose. It doesn't has column board in vehicle parts, with wide range of uses, mainly used in long-haul transportation. Low bed semi-trailer is usually used to transport heavy vehicles (e.g., tractors, buses and special vehicles, etc.), rail vehicles, mining machine, forestry machine, agricultural machine, such as excavators, bulldozers, loaders, paver, cranes, etc.) and other heavy goods, the lower center of gravity, the better the stability and safety, the stronger the ability of transporting overweight cargo and passing overhead obstacles.
2.Gooseneck stake trailer
Gooseneck stake semi-trailer truck parts adopt the design of fence structure, mainly used for the transportation of agricultural and sideline products and other light bubble
3.Gooseneck enclosed trailer
Gooseneck van type semi-trailer is used in the transportation of household appliances, textile goods, building materials such as coal, sand, and figure plate goods. It can be divided into two kinds, van and wagon box according to the difference. Van, such as the ambulance truck, accommodation car, environment check-out car, diner car, television ob van, etc. Wagon box, such as refrigerated insulated car.
4.Gooseneck dump truck trailer
Gooseneck dump semi-trailer is applicable to bulk cargo transportation, such as coal, ore, building materials and so on. Dump semi-trailer can be divided into two categories according to use: one belongs to the heavy and super-heavy dump trailer, mainly undertake large-scale mining, engineering transportation tasks, often used with excavator. Another is light medium normal
dump truck
trailer mainly undertake bulk cargo transportation of sandstone, clay, coal and so on in highway transportation, often used with loader.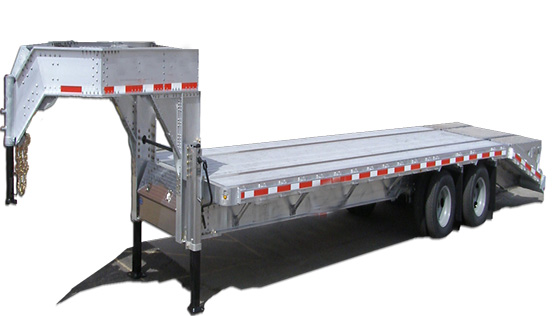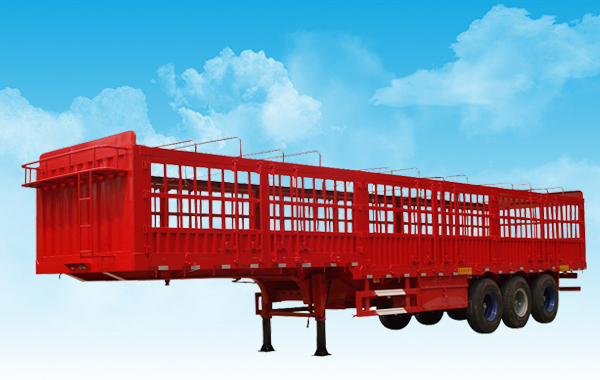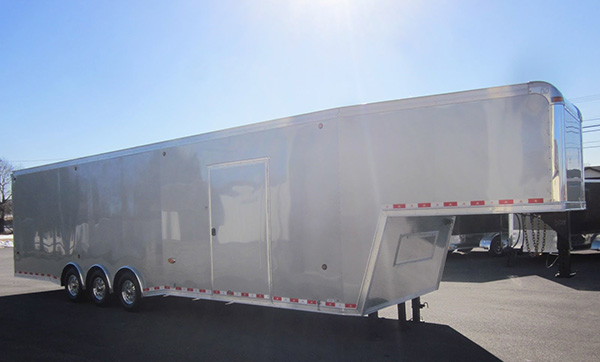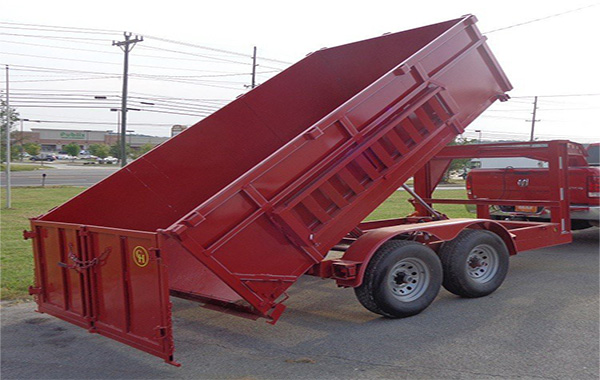 Gooseneck hitch
A gooseneck hitch is designed to handle the heavy tow load that accompanies a gooseneck trailer. Trailers of this sort typically come in the form of an RV or livestock trailer but can also include other large trailers such as
flatbeds
. Similar to a 5th wheel hitch, a gooseneck hitch mounts into the bed of a pickup truck using a special installation kit or set of brackets. In addition to their high towing capacity, gooseneck hitches are appreciated for their tighter turn radius capabilities and subtle presence in the truck bed.
The gooseneck hitch also features a large, flat plate, but instead of receiving a kingpin, it has a traditional hitch ball. Goosenecks are more common on short cargo boxes because the ball allows closer placement of the trailer to the rear of the cab. There are three different versions of the gooseneck hitch: under-bed, fold-down and above-bed. Under-beds are attached to rails under the cargo box to support the gooseneck head. Owners can remove or lower the ball when not used. Fold-down goosenecks also attach to the rails, but the ball hitch mounts to a steel plate on the cargo box floor. Above-beds attach to the rails like a fifth wheel and can be removed at any time.
Difference between gooseneck hitch and 5th wheel hitch
The Gooseneck Hitch utilizes a ball on the hitch that engages with a coupler on the trailer. That differs from the Fifth Wheel Hitch which has a King Pin on the trailer that engages with a King Pin Funnel on the Fifth Wheel Hitch.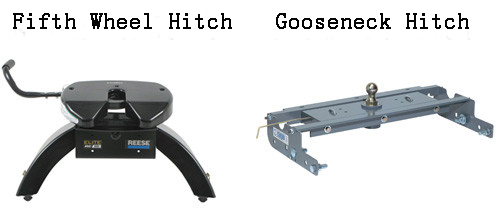 Gooseneck Hitches can be purchased as Under-Bed, Fold-Down or Above-Bed models that allow you to quickly remove the ball from the truck bed when not in use. One moment the hitch ball is ready for towing and the next moment it is out of the way leaving the bed free of obstructions.
Above-Bed Gooseneck Hitches utilize the same set of rails as a Fifth Wheel Hitch making it easy to switch between these two different styles of hitches if you happen to have both a Gooseneck and a Fifth Wheel trailer.
Coupling Device
By design, coupling devices for gooseneck trailers must tow the trailer in a straight line when on a flat, paved surface. The path of the trailer cannot be derailed from the vehicle towing the trailer by more than 3 inches. A fifth wheel assembly should be secured to the frame of the vehicle in a way that does not adversely affect the frame and must not shift during towing. The device must incorporate a locking mechanism with a manual method of unlocking. Fifth wheel devices must evenly distribute the weight of the gooseneck trailer over its axles and the axles of the towing vehicle. Fifth wheel assemblies must not cause instability in the towing vehicle's steering, braking or other operating capability.
Brake System
Gooseneck trailer braking methods often depend on the type of load you are hauling. Most states require a separate braking system for trailers with a loaded weight of more than 1,500 pounds. An emergency breakaway switch is required to activate the trailer brake automatically, thus trailer and towing vehicle should be separated. If electronic brakes are used, the towing vehicle must have a control unit near the driver and provide brake operation either automatically or manually. Surge brakes, also called hydraulic brakes, should be independent from the braking system of the towing vehicle. Certain states require brakes on each axle of a multiple axle trailer.
Lighting/Marking
Gooseneck trailers require at least two tail lamps to illuminate the vehicle. These lights must be red in color and be mounted on the rear of the trailer, as far apart as possible. Two red brake lights are required on the rear of the unit to indicate brake activation. At least two turn signal lamps at the rear must indicate the direction of a turn and can be red or yellow in color. Left and right red side marker lights must be mounted as far to the rear as practical. Red reflectors should be placed on the rear of the trailer, as far apart as possible, to mark the trailer's width. Similar reflectors must be on each side of the trailer, at the rear, and indicate length. Yellow front sidelights are required on both sides and should be mounted as far forward on the trailer as possible.
Advantages
A gooseneck is more maneuverable because the overall length of the trailer and the tow vehicle is less than that of a travel trailer with equal floor space. With increased maneuverability, it's easier to make turns. A gooseneck is more stable when towed.