More Special Vehicles are Needed in Africa
With relative rapid development of economy in Africa, its demanding for heavy trucks is increasing recent years. The automobile industry of China has been developing rapidly over the last decades. As the world's fastest growing automotive producer, annual production of China has surpassed Korea, France, Germany, and the United States, only behind Japan. Sinotruk, Faw truck and Foton truck enterprises have already entered the African market and did well with excellent cost-performance. As a new brand with good reputation,
DeLi truck
also exploring its market in Africa. At the same time, these companies also build factories in Africa, then produce trucks at local areas. Expediting the process of car industrialization of African countries and providing jobs for local residents.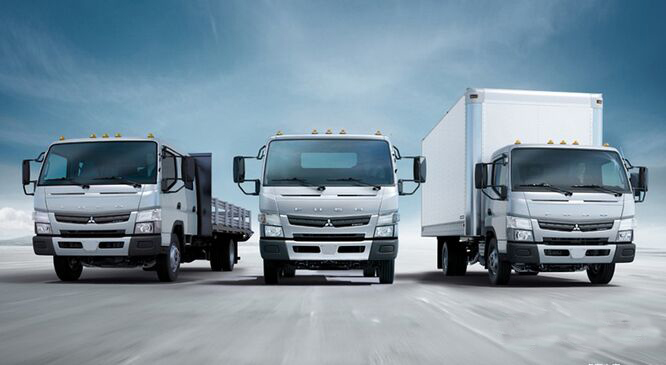 According to customs data, total export of China is 66800 trucks in the first quarter of 2014, falling 10.91% year on year. Export amount is 1061 million ,up 8.68% compared with 2013. Exporting volume and sum of Africa is 25000 trucks and 405 million. Taking up more than 37% of the total amount.
Table about Truck Exporting to Different Areas in The First Quarter of 2014

| | | | | |
| --- | --- | --- | --- | --- |
| | total amount | growth rate(%) | total money(billion:$) | growth rate(%) |
| total | 66824 | -10.91 | 10.61 | 8.68 |
| Asia | 27590 | 9.97 | 4.66 | 14.19 |
| Africa | 24923 | -20.78 | 4.05 | -10.13 |
| Latin America | 11824 | -22.97 | 0.36 | 72.02 |
| Europe | 1343 | 10.9 | 1.36 | -24.6 |
| Oceania | 1087 | -42.24 | 0.16 | -38.97 |
| North America | 57 | 338.46 | 0.03 | 175.17 |
Judging from the types of special vehicles exporting to Africa, diesel trucks occupy more than 55% of the market share, especially the truck which weight is under 5 ton. Other tonnage diesel truck keep growing year-on-year except for the trucks whose kerb weights are over 5 ton. Amount of
tipper trucks
and
tank trailer trucks
is also increasing.
Different Truck Types Exporting to African Countries
First quarter of 2014
first quarter of 2015
growth rate(%)
Diesel truck
WT≤5t
7644
5979
27.85
5t<WT≤14t
2464
1525
61.57
14t<WT≤20t
232
403
-42.43
WT>20t
3451
3218
7.24
Gasoline truck
8311
16926
-50.90
Highway tractor
2350
2851
-17.57
Off-highway tractor
429
531
-20.11
Truck chassis
6
13
-53.85
Off-highway chassis
35
7
400.00
other motor vehicle
1
0
total
24923
31459
-20.78
Among the main importing countries in Africa, top ten exporting countries taking up 87% of the total market share. As the biggest importers, Algeria importing 12902 trucks. It possesses complete system of the market development, dealer management, service and sales process. With 2138 heavy vehicles, Mauritania is the second largest importing country. The amount of Nigeria, South Africa and Angola all exceed 1000. Because the main transportation of Nigeria is highway, and automotive is primary transportation tools. It is noteworthy that Nigeria is lack of his own national automobile industry, so it needs to import large amount of automobiles to meet the needs of the domestic auto market. But both importers and distributors need to pay 35% tax according to the new policy on the imported vehicles enacted by the federal government of Nigeria.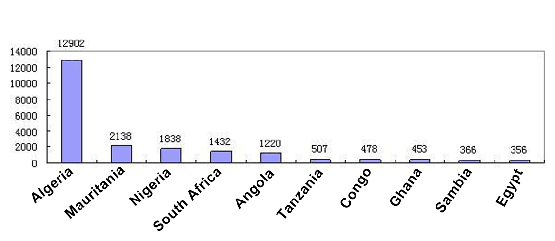 Developing African market full of opportunities and challenges
Why opportunity?
Relationship between Africa and china is friendly, continuous expansion of trade create a rapid developing chance for the exporting of Chinese automobile products. China-Africa cooperation forum and the visiting between the top leaders strengthen the economic and trade exchange between the two sides. Total trades of China-Africa hit a new record, reaching 200 billion in 2013. China has become the largest trading partner for five consecutive years. China has established exporting special zones in Ethiopia, Mauritius, Nigeria, Zambia, and Egypt. According to Xinhua News, Chinese premier Li Keqiang have an official visit to Ethiopia, Nigeria, Angola, Kenya from May 4 to 11. Li visit African Union on may 5, attending the 24th world economic BBS Africa summit plenary session in Abuja, capital of Nigeria. It is known that this is first trip Mr. Li visit Africa, after his appointment as Premier, also the second visiting after Chinese President Xi Jinping's last march. During the visit, both sides sign nearly 60 cooperation documents, involving politics, economy, trade, culture, health, agriculture, personnel training, and so on. These cooperation projects, some are agreements between the governments, others are cooperation projects between financial institutions and enterprises, covering many fields, including a variety of forms. Which indicates the vast space of China-Africa cooperation, embodying developing patterns of China-Africa trade and economic cooperation in the future.
African countries pay more and more attention to attract foreign capital. Policy measures such as simplifying approval procedure for investment projects, executing tax preference terms, strengthening basic construction of facility are implemented. Which create favorable conditions for exporting heavy trucks.
Africa doesn't have infant automobile industries, and its requirement for the emission standards of vehicle emission is not very high, in accordance with the developing level of automobile industry of our country at present stage. Chinese heavy trucks have a better cost performance, owning certain competitive advantages compared with European trucks, Japanese and Korean trucks.
Africa can provide huge potential market for Chinese products manufactured at local areas. According to IMF data, six of top 10 world's fastest growing economies are in Africa. In addition, many African countries are reducing their dependence on the mining of natural resources such as oil, metals and precious stones.
Full of challenges
1. Unsteady of the Africa policy environment and market rules and strong intervention ability that government imposed on. Accidental policy changes could make the enterprises unprepared, causing barriers to the stable operation of the enterprises.

2. Vast terrain and weak infrastructures restrict the development of automobile industries. A number of countries are lack of the basic transportation facility, such as highway, railway and port.

Analysts said that we must make a in-depth research about the policy and national conditions at local countries, envading the risk of investment efficiently. The operation of enterprises must put a new premium on the incorporation with local community, driving local employments and taking part in community building and social welfare undertakings actively. Only in this way, management of the enterprises' investment will get more recognition and support from African countries.
Present developing condition
Sinotruk, Faw truck Foton, and Shacman were in Africa market early, and have corporation with local dealer. DeLi truck is a new brand and enjoys high reputation both in domestic and abroad, Founded in the early 1980s, DeLi used to produce auto parts, with expanding scale, DeLi has become a well-developed industries. What's more, it was awared as a technological enterprise.

Dump truck and tank truck are urgently needed in Africa areas. Tipper truck is very welcomed, this kind of trucks is used in construction industry, it has many functions, transporting construction waste, sand. It can improve working efficiency and reduce transportation cost. This kind of truck can be used for urban environment cleaning as well.

Tank trailer truck can transport liquid or gas fuels, owning a large capacity, it has a good market in central and southern Africa. Nigeria is the biggest producer of petroleum in Africa, tank truck can be used for transporting petroleum and enhance the economic development of local areas.